September 02, 2023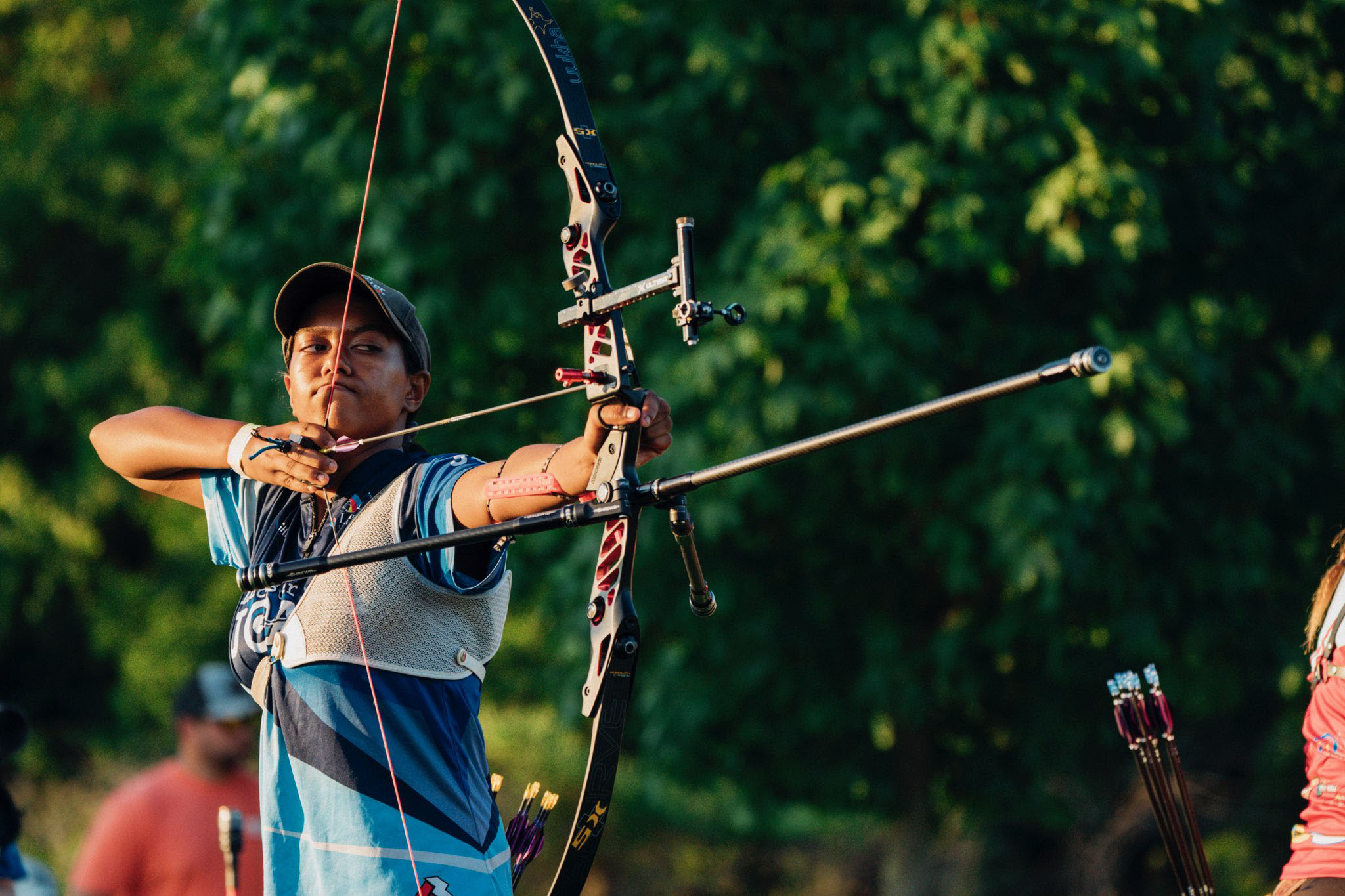 MALVERN, Pa. – Akshara Vijay upset top seed Casey Kaufhold on Saturday to claim the U.S. Open title in the recurve senior women division at the age of just 15.
On a day which was brimming with silverware, Vijay – bronze medalist at the same venue last year – came from 4-2 down to force a one arrow shootoff, which she won to take gold.
After two marathon days contesting the USA Archery Target nationals, archers were confronted with a Saturday sprint in the shape of U.S. Open eliminations!
In the recurve senior men's event, Jack Williams defeated Oscar Ticas 7-1. Williams won the U.S. Open in 2021. In another surprise, top seed Brady Ellison went out at the quarterfinal stage, beaten by Joonsuh Oh, the man eventually halted by Williams, whose attention immediately shifted to Sunday and Stage #2 of Olympic Trials Qualification.
"We start at 7.45 and hopefully finish before five or six," said Williams. "That's going to be a long day. Fifteen matches."
The win for Williams, with the sun setting, was the final match of a full day of U.S. Open elimination encounters.
There was success for relative newcomer Francesca Benavidez in the barebow senior women's division. The 17-year-old beat the experienced Christina Lyons 6-4.
Benavidez announced her arrival on the archery scene in July at the JOAD Target Nationals in Des Moines when she set new world records in both the U18 and U21 categories.
"I just came out here to have a good time, I really did," admitted a beaming Benavidez. "These are some amazing women to shoot with and I couldn't ask for any better finish than this."
John Demmer III overcame Matt Yacca in the barebow men's gold medal match, winning 7-1.
There were familiar faces on the podium in the compound senior category, with victory for James Lutz and Tanja Gellenthien. Lutz beat Kris Schaff 148-146, with Gellenthien edging out Paige Pearce 145-144.
Earlier in the day, U.S. Open wins went to Jason Pfister (recurve 50+ men), Lori Cieslinski (recurve 50+ women), Tim Gillingham (compound 50+ men), Deanna Cronin (compound 50+ women), Rick Stonebraker (barebow 50+ men) and Cheri Gandy (barebow 50+ women).
With his win in the compound 50+ men, Gillingham enjoyed double success in Malvern, having also taken gold in the Target Nationals on Friday.
All of the latest scores and results can be found on BetweenEnds, with action images added daily throughout the event.
< Back to All News