September 01, 2023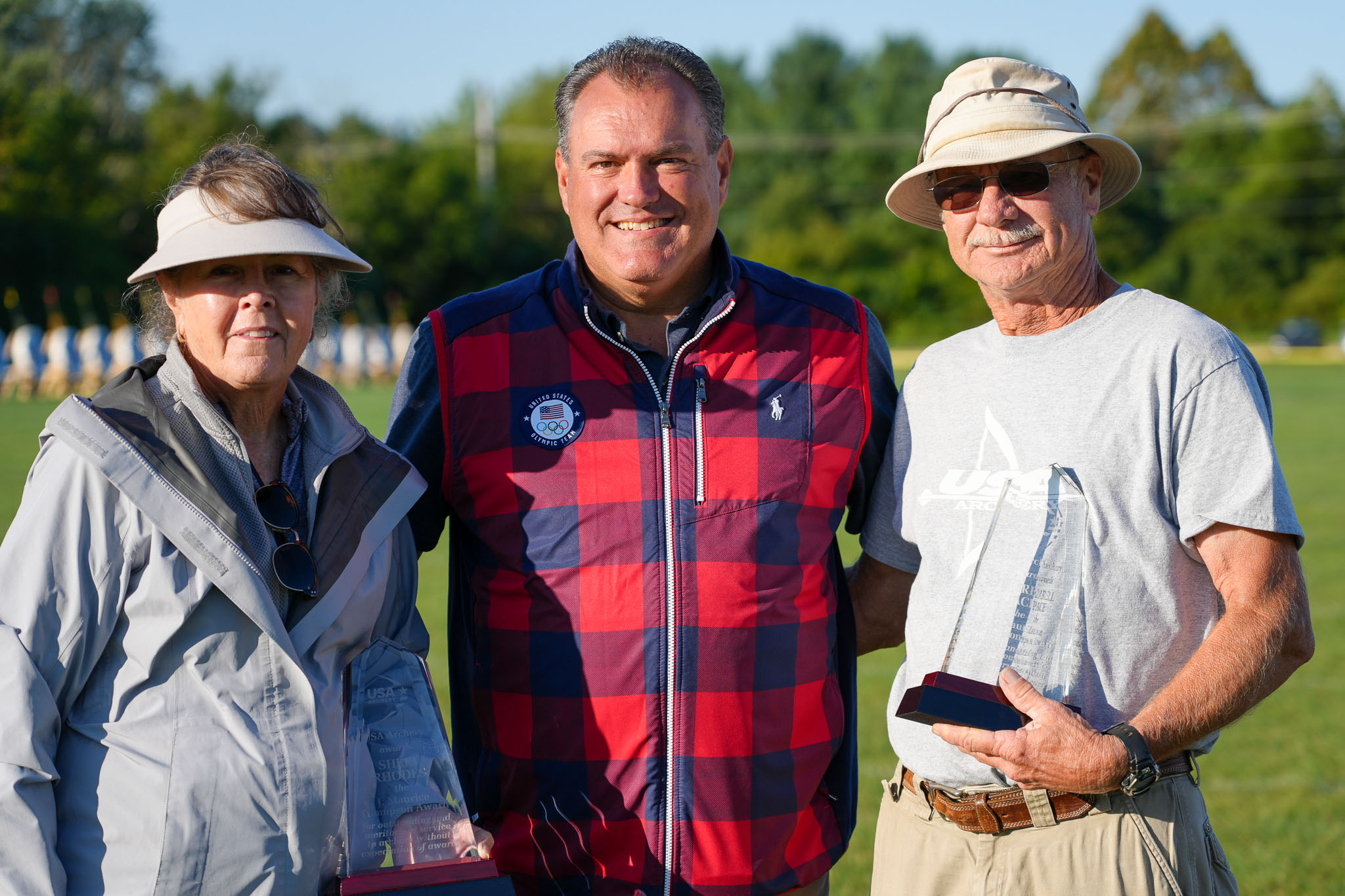 MALVERN, Pa. – USA Archery has recognized two loyal and long-standing servants of archery, Darrell Pace and Sheri Rhodes, in presenting them with the J. Maurice Thompson Award for their outstanding contribution to the sport.
The Thompson Award was founded in 1939 to honor the NAA's first President, J. Maurice Thompson. It is given to those who have rendered outstanding and meritorious service to archery without expectation of award and is one of the most cherished honors USA Archery offers.
Pace is a name known to archers and archery fans across the world, primarily for his dazzling exploits in the 1970s and 80s, during which he won gold at the Montreal Olympic Games in 1976 and the 1984 Games in Los Angeles.
Named Athlete of the 20th Century at the FITA (now World Archery) Congress in 2011, Pace was an innovator and pioneer. He was ahead of his time.
The great basketball coach John Wooden once said, "The true test of a man's character is what he does when no one is watching."
The world of archery was watching Pace for the best part of two decades, and what they saw was a fierce, confident competitor. Since stepping out of the spotlight, Pace has lost none of his drive, though since those golden years he has thrown himself into giving back to a sport which gave him so much.
For the past 18 years, the two-time Olympic champion has been quietly working behind the scenes, primarily leading field crews at dozens of USA Archery events. Pace has switched out his bow and quiver for a whole collection of tools, fixing and fitting to make sure the events go as smoothly as possible.
The Buckeye Classic, one of the four USAT Qualifier Series events on the USA Archery calendar, is Pace's home event. The 66-year-old from Ohio has been the announcer and director of scoring at this summer spectacle.
Like Pace, the second recipient of the Thompson Award, Sheri Rhodes, has given more than half a century to the sport. The hats worn by Rhodes across 50-plus years of service are many and varied.
Among the many things Pace and Rhodes have in common is that, at some point in their careers they were coached by the Archery Hall of Famer Al Henderson. Henderson moved to Arizona in 1946, where he worked with Rhodes. He was coach of the USA team at the 1976 Olympics.
Rhodes was a high school state champion and an ASU All American three years running, but it was as a coach where she excelled. Whether that was during her 17 years as coach of her former college – when ASU claimed almost 60 titles – her seven years at Stanford, or her time as a coach to the US team at the 1987 Pan American Games, the Seoul Olympics in 1988 and the Athens Games in 2004, the influence Rhodes had on the growth and success cannot be overlooked.
As an athlete and coach, Rhodes also gave back to archery in many other ways, whether as Deputy Director of Olympic Shooting at the LA Games in 1984, or as Competition Manager at the Atlanta Games in '96. The Arizona native was the manager of several US international teams including Target, Field & Indoor, Jr and Sr teams, for over 30 years.
From 2013-2023, Rhodes served as the National Events Manager for USA Archery. She is also a continental judge, was a USAA Board Member (2008-10) and has sat on various coaching committees both nationally and internationally.
It is fitting that Pace and Rhodes receive this award together. For his entire career, Pace was pushed by his close friend and archery rival Rick McKinney. They were born just 85 miles apart and began competing against one another in 1973. McKinney won silver at the '84 Games in LA, when Pace claimed gold. His coach from 1980-1996 was Sheri Rhodes, when McKinney was among the best in the world.
"Sheri and Darrell are archery giants walking among us," commented USA Archery CEO Rod Menzer. "What they've accomplished in and for the sport of archery over half a century of passionate hard work is largely unparalleled.
"We will forever be grateful to them for all they've done for the archery community, and especially for USA Archery and our members. They came on the scene together and it's special to see them both honored together."
While much of what Pace achieved in those golden years was front and center, the work carried out behind the scenes by Rhodes – though out of the spotlight – was equally impactful.
Today, the sport of archery continues to blossom. The events are bigger, the talent pool is deeper and the sport is enjoyed in all corners of the country, thanks in no small part to the 2023 recipients of the J. Maurice Thompson Award, Darrell Pace and Sheri Rhodes.
< Back to All News