NASHVILLE, Tenn. — Tennessee lawmakers on Tuesday abruptly ended a special session initially touted to improve public safety in the wake of a deadly elementary school shooting, but it quickly unraveled into chaos over the past week as the GOP-dominant Statehouse refused to take up gun control measures and instead spent most of the time ensnared in political infighting.
In a particularly heated moment, Republican House Speaker Cameron Sexton and Democratic Rep. Justin Pearson appeared to have a brief physical interaction where both accused each other of shoving moments after the House adjourned.
Ultimately, lawmakers could only agree to pass four bills, which in part encourage but don't require using safe gun storage devices; require an annual human trafficking report; add the governor's existing order on background checks into state law; and increase funding for mental health and K-12 and higher education safety initiatives. Only a few gun control measures fell within the session's narrow parameters, and those were rejected without debate.
Tuesday's dustup was captured on video by reporters, showing Sexton departing as Pearson approached the speaker's dais holding a sign calling for gun control. The two made contact as Sexton stepped to avoid a photographer; meanwhile, other legislative members, staffers and security guards rushed to the front of the floor.
Yelling erupted from both lawmakers on the floor and protesters in the gallery above as House Republicans quickly left the chamber. Democratic Rep. Justin Jones, who had been holding a sign on the other side of Pearson as Sexton walked by, later grabbed the speaker's gavel and banged it, yelling, "This house is out of order."
Pearson and Jones were expelled by the Republican supermajority earlier this year. Both were reappointed, then reelected, and remain critical of Sexton's leadership.
Sexton said a security guard put his hand on his back and knocked Sexton forward, prompting the speaker to move to step past the photographer. Then, Sexton said Pearson "comes in and pops me," bumping his shoulder. Sexton said he did not throw his shoulder into Pearson.
Pearson told reporters that it was an "act of aggression, an act of violence against me" by Sexton, saying he was not being aggressive with Sexton or pushing him.
Republican leaders countered that Pearson and others took attention away from the special session's purpose and lacked maturity.
Tuesday's tense standoff marked the latest turn in a session Republican Gov. Bill Lee initially organized in response to a shooter opening fire at The Covenant School in Nashville, killing three young children and three adults. Lee had hoped to convince fellow Republicans to pass legislation to limit dangerous people from accessing guns, but the proposal never gained enough support. Some Republicans said they didn't think a session was even needed and tried to adjourn from the outset last Monday.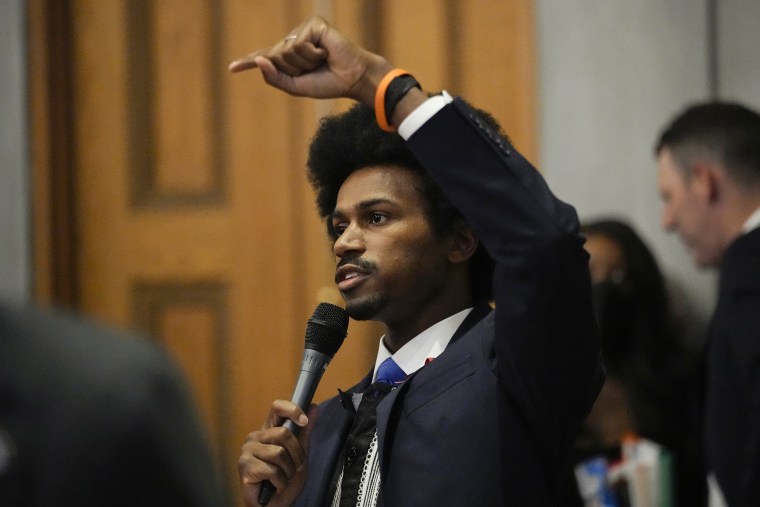 Lee attempted to tout the session as a positive step for hesitant lawmakers.
"We made progress in public safety, and we elevated a conversation about public safety that will continue into the future," Lee told reporters. "And that's important."
As the special session neared, Lee largely stopped mentioning his "extreme risk protection order" proposal and instead stressed that lawmakers would work to improve public safety and mental health services.
Yet in little more than a week, lawmakers advanced just a few bills and struggled to break through an icy stalemate between the House and Senate. Even as Lee worked with warring legislative leaders, both sides took turns blaming others for the inaction.
Further adding to public outrage: Republican leaders limited public access to the Capitol building and increased the presence of law enforcement.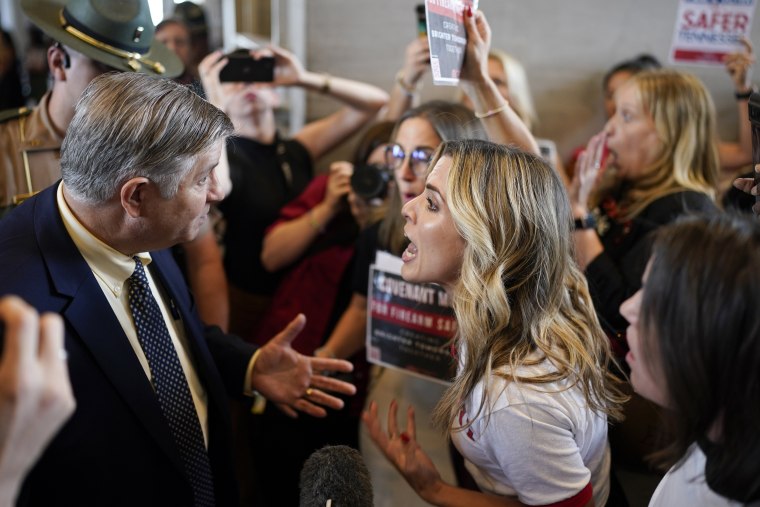 In the House, Republicans banned the public from holding signs during floor and committee proceedings, but a Tennessee judge has since blocked that rule from being implemented. In one hearing, a House subcommittee chairman had troopers kick the public out of the room after deeming the crowd too unruly. That included grieving parents closely connected to the school shooting, who cried after the decision.
Sexton also silenced Rep. Jones for the remainder of Monday's session after ruling his comments were out of order under new stricter decorum rules.
Lawmakers wound up agreeing on minor changes to existing state programs. These add more money to advertise a state program offering free gun safes and codify the governor's executive order that set a 72-hour period for reporting new criminal activity to the Tennessee Bureau of Investigation.
Lawmakers also approved $30 million for higher education safety grants for public and private colleges and universities; $50 million for grants to community mental health agencies; $12.1 million for retention bonuses for behavioral health state employees; $10 million more for K-12 school safety grants; $4 million for the mental health safety net; and $3 million for behavioral health scholarships.
Republican Senate Speaker Randy McNally told reporters the session was a success. But he said he believed more work would be done when lawmakers return for their regular session in January.
House Majority Leader William Lamberth conceded that public safety had only improved a "little bit but not enough" because of the session, pointing to the wide variety of bills passed by the House, but not the Senate.
"There's much more work that we have to do," he told reporters.
After lawmakers adjourned, Pearson and other Democratic lawmakers consoled a sobbing Sarah Shoop Neumann, a member of a group of Covenant School parents who had pushed for gun control and other changes for months. Pearson also led a prayer with Neumann and other Covenant parents.
"It's difficult to find the words to say for such a time as this, that we held a special session following the extraordinary tragedy of a mass shooting that took place at The Covenant School, and yet we took no meaningful action," said Neumann, whose son attends the Nashville school and survived the March shooting.