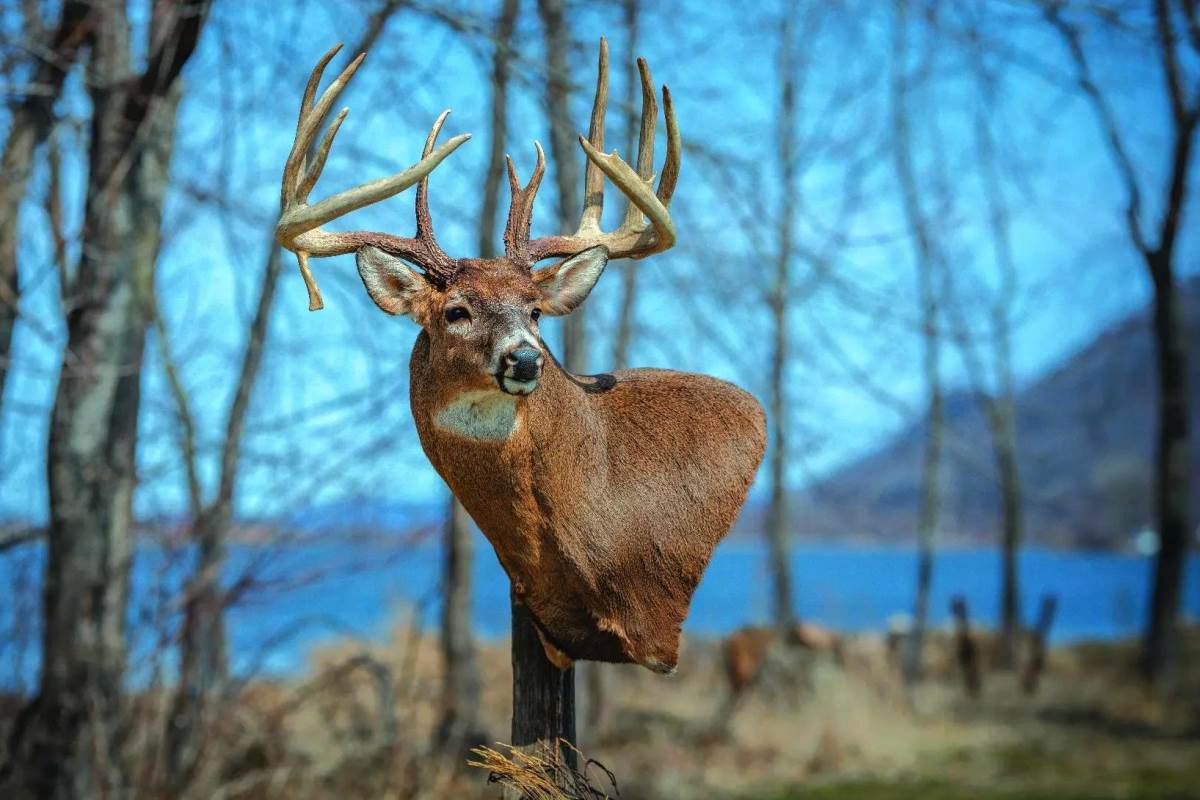 August 29, 2023
By Dan Cole
I enjoy all aspects of large-antlered bucks, from hunting them on the hoof to hunting for their shed antlers. I also like the big buck chatter; whether through social media or friends in the outdoor industry, it's always fun to hear stories and see photos of some of the giant whitetails that roam our lands.
We get a fresh crop of big deer stories and photos to analyze yearly. Unfortunately, some of these stories are dead ends or maybe rumors. Sometimes, a set of antlers looks much more significant in pictures than they do in person, giving us a false expectation that something huge was taken. However, a true giant shows up every now and then and lights the whitetail world on fire.
These days, it takes a pretty big deer to get the whitetail world buzzing with excitement. However, long-time readers of this magazine have witnessed a progressive phenomenon where the headline bucks have slowly gotten bigger over the decades. For instance, 35 years ago, there's a good chance a 170-inch typical would make headlines. Today a headline-worthy typical buck might need to clear 190 inches before it gets the full attention of the whitetail world. The same holds true for non-typicals; most early headlines were dominated by 200-inch bucks, and if something hit 250 inches, it was sure to receive good coverage. Slowly the anti was raised, and today we have headline bucks that are usually north of 270 inches. It's a great trend and one that many of us enjoy watching grow over the years.
Indeed, from year to year, the whitetail world is seldom short on news and rumors of giant antlered bucks to track down and feature. However, even with all the big antlered deer being produced today, the true giant whitetails are few and far between. Only around a dozen bucks, including shed antlers (with estimated inside spread measurements), are known to score over 300 inches non-typical. Giant typicals are slightly more common, with approximately two dozen known white- tails crossing the 200 net inches mark.
Advertisement
When you break that list down even further, you can separate the 10-point typicals from the 6x6s and 7x7s. It takes a fantastic set of typical antlers to net over 200 inches, but it takes a phenomenal 5×5 to cross that mark. Honestly, history has recorded only a handful of bucks as doing so.
Sticking with the largest 5x5s, we find a who's who in whitetail history when we look at known gross scores. Names such as Youngman, Van Lith, Breen, Bills, and Jordan pop out. Add shed antlers, and we get the names Fleming, Indiana Legend, and Elgin Ghost that lead the list. The latest to the list, the Indiana Legend sheds, shocked the whitetail world when they made their way to the public eye in 2019. The wide-spreading antlers and long points made the buck look bigger than life, and it got the whitetail world talking. Unfortunately, there aren't many deer that can hang with the Breen buck for sheer overall size, but the Indiana Legend is one of the few that can.
But now, another set of shed antlers has recently surfaced that are equally big and impressive as the Breen buck! This buck first came onto the radar of Stoddard, Wisconsin resident Kevin McLain in 2014. Here's his story.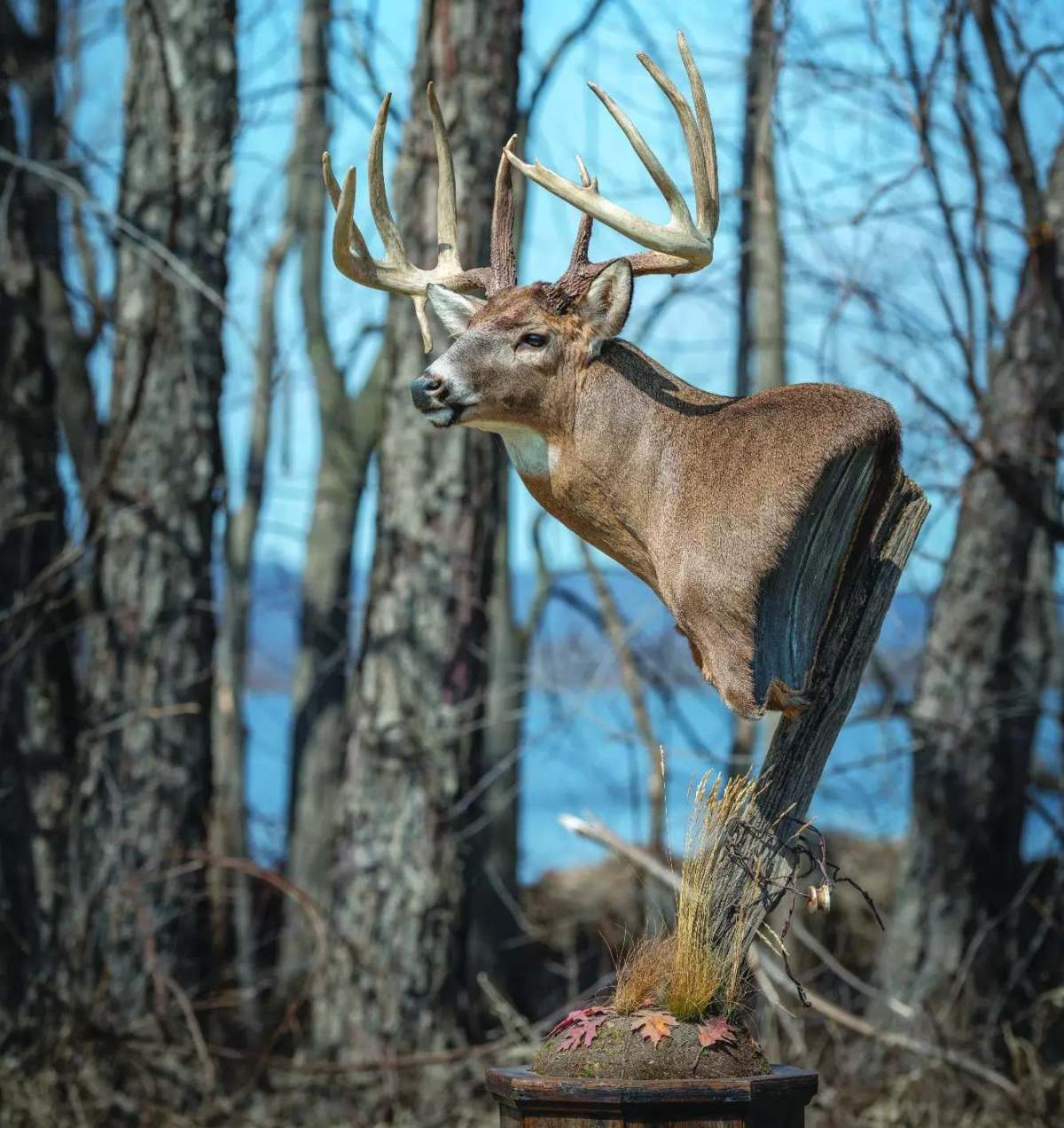 SHOOT YOUR SHOT
"I have a farm in southwest Wisconsin, and I first became aware of the buck through trail camera photos." Kevin says. "He was maybe a 3- or 4-year-old at the time, but he had a deformed left antler. His right side was pretty nice, but I wasn't interested in hunting him because of the left side. After that, however, I did take notice of the future." Kevin notes that the buck spent most of this time between two small woodlots.
The following year, in 2015, there seemed to be a change within the buck. The deer grew taller and heavier that year, and his rack got wider, too. In addition, his left side had grown back nicely but had some non-typical growth. The buck's appearance changed so much that it took Kevin a while to recognize him. Unfortunately, this was also the last year for daylight pictures of the buck. Nevertheless, Kevin was impressed by the buck's development from the previous year.
Video That May Interest You

×

---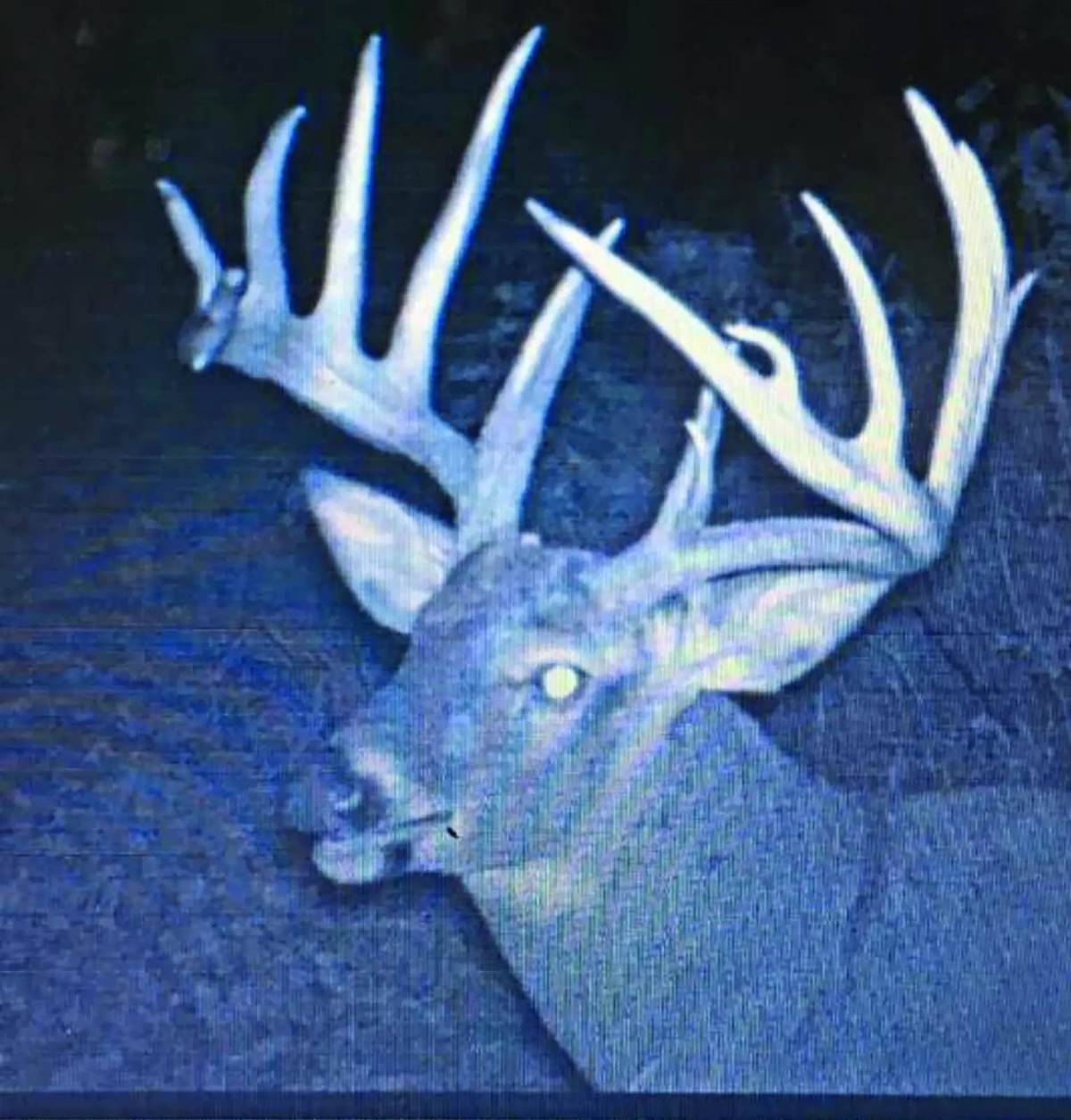 Kevin hunted the buck several times throughout the fall of 2015 but had no close encounters with the deer. He was learning, though, as the puzzle pieces were slowly coming together. Kevin also noticed that as the buck aged, it grew fewer non-typical points. He hoped his observation was correct and looked forward to seeing and hunting the deer in 2016.
Kevin didn't get any trail camera pictures of the buck before the 2016 hunting seasons. In fact, outside of one dark photo of the buck, he was beginning to think the deer had been killed somewhere else. However, there was one spot on his farm where Kevin had not yet hunted; his gut feeling told him that's where the buck was bedding. "I thought the buck would bed there as long as I left him alone," says Kevin. "And I hadn't hunted in there all season. So, I waited until I thought everything was right." When the rut kicked in, Kevin made his move.
One evening as shooting hours closed, Kevin got caught in his tree stand as the big typical sauntered nonchalantly through a ravine. Kevin could only watch as the big buck walked by at 30 yards. The giant whitetail had no idea he was being watched by the hunter.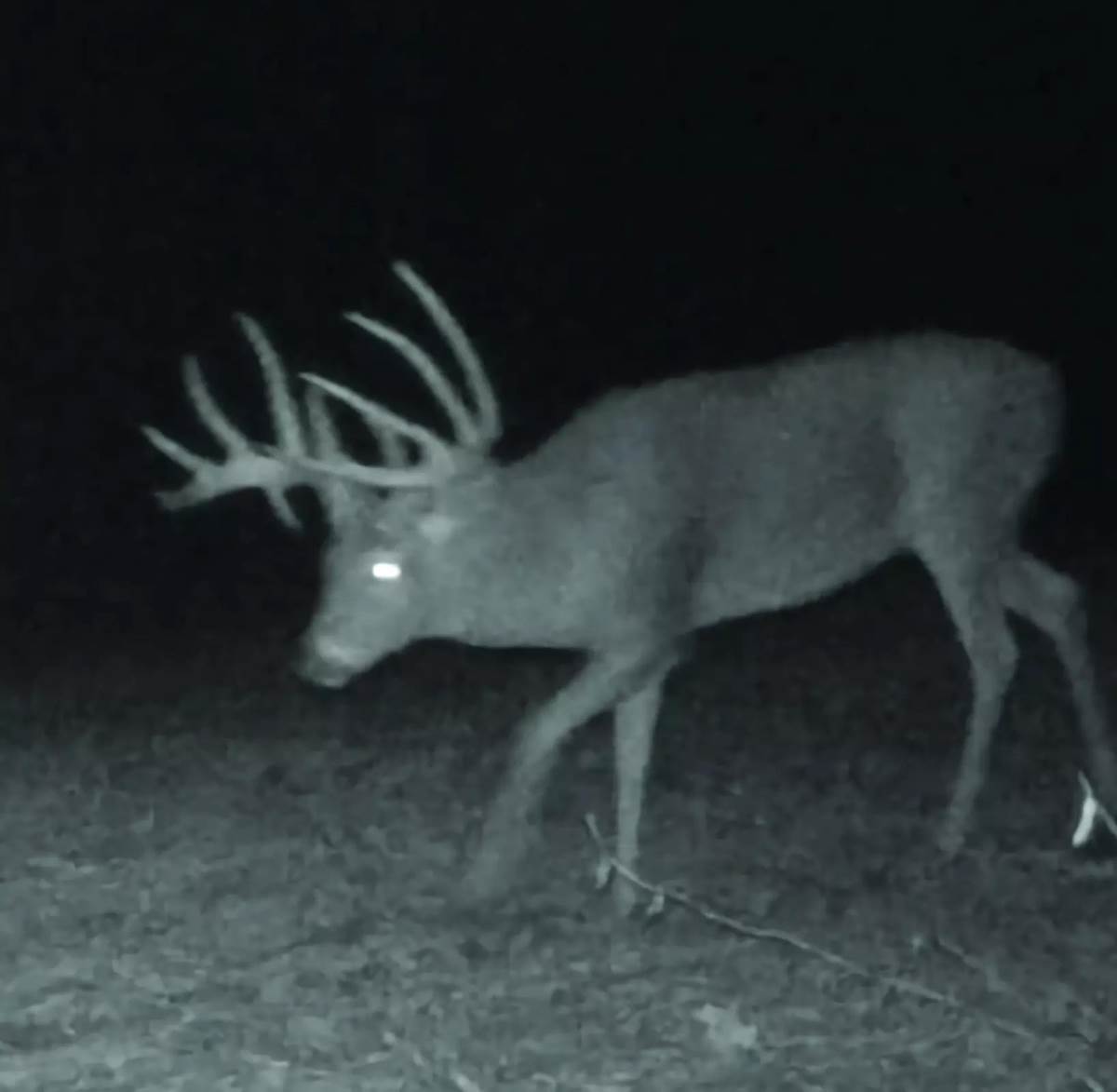 Kevin had another encounter with the buck later in the fall and during a snowstorm. "It was snowing and blowing like crazy, so I took my crossbow that time," Kevin remembers. "I was hunting over a soybean field, and about the time I was going to leave, several deer entered the beanfield. They were spooky, though, and they ran back into the woods. But I figured I better stick it out after seeing that, and a couple minutes later, several more deer came out, including the big buck." The group of deer was still acting spooky, and they weren't standing still very long. Within seconds, Kevin was looking down his bolt at the buck of a hundred lifetimes standing broadside to him at 30 yards. And then . . . he missed the shot.
"Yeah, I missed," Kevin admits. "The wind was crazy, and blowing towards the buck broadside. I watched as it pushed my bolt sideways and beyond the deer. But, in my eyes, it was a clean miss." That was the last time Kevin saw the enormous buck.
EPIC SHED ANTLERS
In January 2017, Kevin and friend Doug Sinniger drove to the farm to check trail cameras. Once reaching the farm, Kevin began driving across an open, snow-covered field. Within seconds Doug shouted, "Hey, look at that!" as he pointed across the field. Sticking out like a "sore thumb" and laying on top of the snow was the enormous right antler, freshly shed from the buck Kevin had missed!
To say the two were excited is an understatement. Kevin knew the deer was big, but until he got the shed antler in his hands, he didn't know just how big. Now he knew, or had a pretty good idea, and he was more impressed than ever. A couple days later, Doug returned to the same field and found the matching left side laying 10 yards inside a small, nearby woodlot. Now that they had the matched set of antlers, it was time to measure them. Dave Boland was among the panel of measurers who officially scored the Sinniger sheds for official entry into the North American Shed Hunters Club. As follows, the final numbers are nothing short of astounding!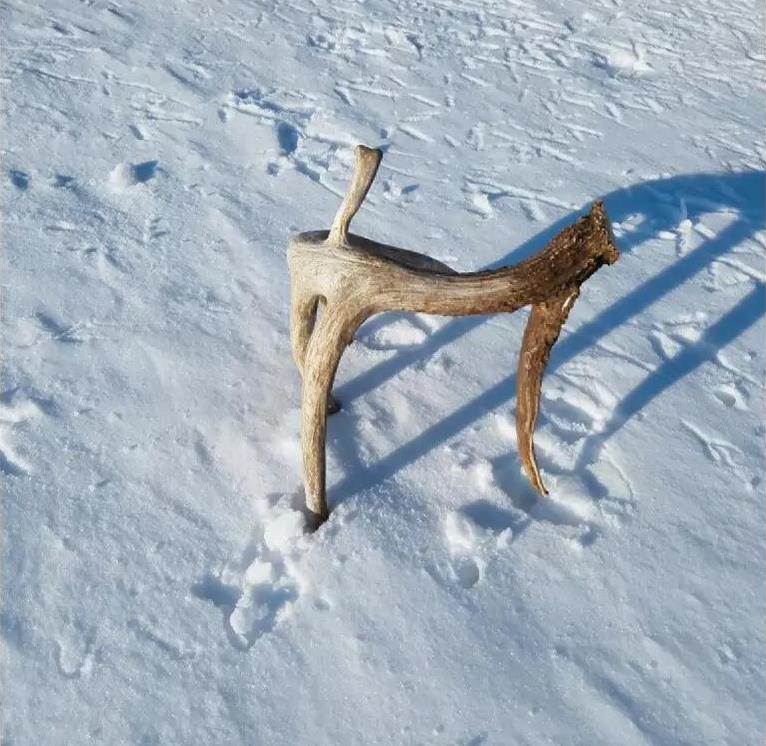 Both sides are typical 5-points, with each having one abnormal point. Both beams are of extraordinary length, 31 2/8 on the right and 30 4/8 on the left, accounting for a side-to-side difference of just 6/8 inches. The right antler has a typical gross score of 95 2/8 inches. Subtract the 3 5/8 drop tine as an abnormal point, and the right antler has a net score of 91 5/8 as a typical 5-point. The left side has a typical gross frame measuring 95 5/8 inches. Subtract the 3 3/8 inch brow point sticker, and the 5-point typical antler has a net score of 92 2/8. Those are top-end numbers!
As a matching set, the antlers measure 190 7/8 inches gross typical, without any spread credit. The net score is 185 inches, again with no spread credit. Things get pretty interesting when we do add a spread credit. The replicated antlers that are seen mounted in the photos are set at 24-inches inside. Add those inches, and we get 214 7/8 inches gross typical and 202 net typical.
These are significant numbers and a set of antlers that should rank near the top 10 or 12 sets of whitetail sheds ever recorded. If we look at numbers with the spread included, the buck had the potential to become one of the top 12 typicals in the world. The Sinniger sheds were found one year after the Indiana Legend sheds were picked up.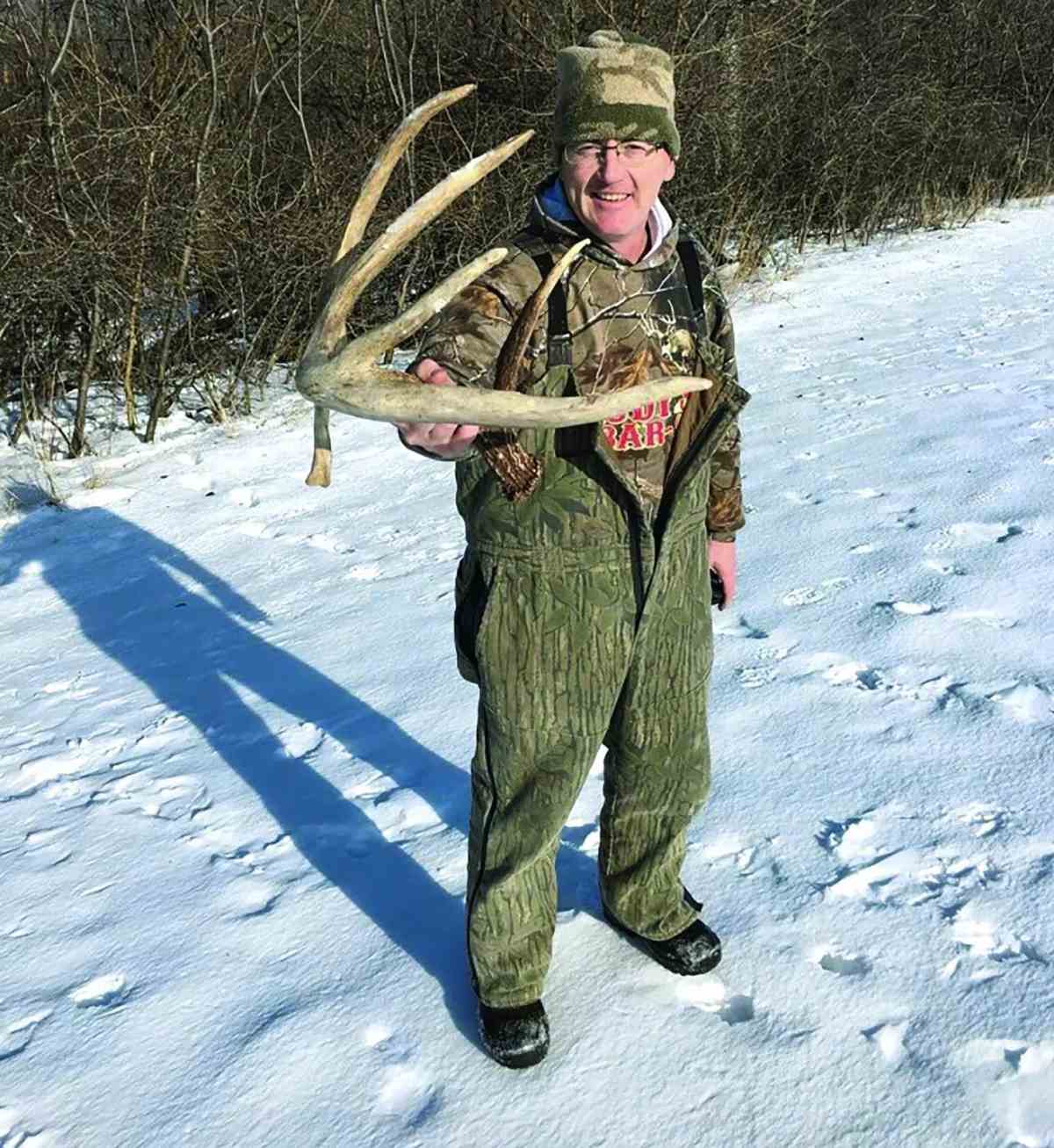 WHAT HAPPENED TO THE BUCK?
Does Kevin McLain know whatever happened to the monster buck that carried the Sinniger sheds? "I'm not sure what became of him," Kevin explains. "I never saw him again after I missed him during that snowstorm. I spoke with an elderly neighbor who mentioned that her grandson 'was hunting a great big granddaddy of a buck.' When I asked her if he got the deer, she immediately replied that he had. The timeline fits, so I can't rule it out."
This leads to speculation that Wisconsin may have yet another 200-inch typical hiding in the shadows, just waiting to be brought out for the public to appreciate. Either way, it's the kind of thing that keeps the world of the whitetail chattering.